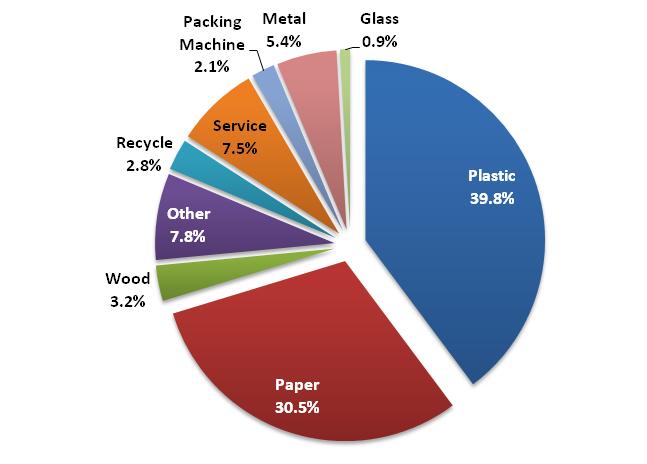 2011 year's packing material market is plastic and paper products occupied packaging market overwhelmingly following 2010

Regarding Korea Packaging Industry
Positive Unit Volume Growth Recorded as the Economy Rebounds
Beverage packaging saw faster unit volume growth in 2010 than was seen in 2009. This was propelled by the growing popularity of imported beer among young people. Stable foreign exchange rates, coupled with growing demand for imported beer, partly contributed to the unit volume growth seen by beverages. Brisk sales of premium facial care and colour cosmetics, along with increasing demand for men's grooming products, boosted the volume growth of beauty and personal care. As consumers became less price-conscious as the economic climate improved, sales of premium products increased in milk, yoghurts, soy milk, chilled/preserved products and ready meals in 2010, which led to food packaging recording positive unit volume growth.
Plastic Packaging Continues to be Popular
The use of plastic packaging is increasing in beverages, as a result of the popularity of PET bottles in the packaging of soft drinks. The shift to PET bottles from glass bottles continued in juice and carbonates, particularly for large sizes of over 1,000ml. As a result of being more durable, lighter and cheaper than glass bottles, PET bottles accounted for nearly half of the total unit volume of soft drinks packaging, following expansion in alcoholic drinks, including beer. HDPE bottles constituted the major pack type in both home care and beauty, and personal care products. Squeezable plastic tubes also saw fast unit volume growth in beauty and personal products, due to being effective at preventing oxygen and ultraviolet radiation from contaminating content. Flexible plastic remained the major pack type in food packaging, while the use of rigid plastic packaging also increased.
Packaging Innovation Offers Convenience, Functional Benefits and Aesthetic Appeal
New packaging in beverages was characterised by streamline contoured bottles that are easier to grip, which serves to improve portability. Streamline shaped bottles also inspire slim bodylines, something which is intended to appeal to young female consumers, which remained the important target consumer group in beverages. Cosmetics packaging remained the most diverse and luxurious in terms of design, as it is less constrained by prices than other categories. Aesthetics were emphasised in the packaging of premium facial care products. Fun packaging was pursued by the Tonymoly brand in colour cosmetics. In foods, innovations were centred more around functional benefits. For example, the introduction of plastic jars with peel-off foil in canned tuna and the launch of ready meal trays in prepared baby food.
A Move Towards Eco-labelling
In 2009, the eco-labelling system took effect for 112 products, including laundry, dishwashing detergents and hair care products. Under the system, after obtaining accreditation, manufacturers are entitled to indicate the amount of carbon dioxide produced by the product on its label. Accreditation is granted when manufacturers reduce carbon dioxide emissions over the whole product life, from production through to waste treatment.
In 2010, Amore Pacific gained eco-labelling accreditation for its Miseenscene shampoos. Both Aekyung and LG Household & Health Care, the leading players in home care products, also gained accreditation. In coming years, it appears likely that major players will continue to strive to reduce their carbon emissions in collaboration with this government-led initiative.
Premiumisation Expected to Drive Packaging Variation
Over the review period, a move towards premiumisation was evident in beverage, packaged food and non-food products, as players looked for a means of sustaining sales share and profitability in Korea's saturated FMCG industry. The range of premium products available is likely to increase further in coming years, as consumers place increased focus on healthy food and beverage consumption. For example, sugar will be increasingly replaced with sugar substitutes in beverages, while artificial additives will be removed from many packaged food products. Similarly, synthetic surfactants will be replaced with natural materials in premium hand dishwashing detergents. Premium products are likely to adopt packaging that differentiates them from standard and economy products; such as using different pack types or implementing unique packaging design elements. Furthermore, it is expected that packaging will be developed in a way that minimises energy consumption, yet increases efficiency, in order to enable players to project an energy-efficient, environmentally-friendly image. To this end, it is likely that notations highlighting packaging's eco-friendly nature are like to become increasingly visible and commonplace.