Engineering Services.
CNC (Computer Numerical Control) Machining work
CNC machining works are programmed with a design which can then be manufactured hundreds or even thousands of times. Each manufactured product will be exactly the same.
We are doing our best on customer need to have technique of accuracy machine work and are cheap from small quantity parts to large quantity parts by various machine works to the best infrastructure.
Hard Case and Control Panel Board for Machinery
Industrial case is finish of all industry products that much must be equipped with all external appearance and function. We offer optimum product to use purpose and working conditions by perfect system to design, design, manufacture depending on customer need and satisfy customer from sampling work to mass production.
Production Design and drafting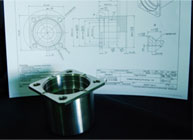 Design is foundation of all product manufacture and is more important than processing, manufacture in engineering.
Also, affect to product according to designer's technique than design program.
Our designers have a lot of experience and have career that work for a long time in Korean major engineering company.
And have capability that can respond 100% on complicated plan customer of 3D request.
Automotive production line Auto Sealing System (Servo B.P.R System)
It is an equipment that solve subject that wish to get always stable and equal quality that did not achieve at constant pressure and constant quantity spread etc. existent Sealer spread equipment by booster apparatus that use SERVO as equipment that this B.P.R constant quantity spread system is that loaded electric quantitative METER on ROBOT ARM, reaction rate optimize and spreads B.P.R Sealer by constant quantity to car OUT PANEL.
If you applied this our system in your production line, we are sure expecting to improvement of C/T, productivity and stability of quality for your Strengthening competitiveness.
Facilities