STRAPPING
CATALOGUE DOWNLOAD
OVR PP(Polypropylene) Strapping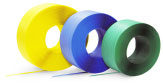 OVR PP Strapping is anybody easy and can use safely for packaging and inexpensive, good quality packaging material which allows precise and safe packing of any materials and their fastening. Also has great cost savings on subsidiary materials by relatively high tensile strength and low thickness for use light packaging.
Specially, PP Strapping can be used for normal carton box and soft materials packaging.
First of all, OVR PP Strapping has various specifications strapping so that can use to any type banding machines as well as manual pack.
Feature

Best ideal for application of light weight and medium-duty package.
Clear performance on any type's banding machines
Work is possible manually without banding tools by hand buckle.
Keep strap tight by uniform surface treatment.
Most economical strapping in the other plastic strapping.

Functional Advantage

Relatively strong tensile strength.
High stiffness and curvature free.
Precision winding for banding machine.
Diamond type embossing treated on surface.
There is no edge's fluff phenomenon by detailed process.