OVR Adhesive Tape

OPP Tape
OVR OPP Tape uses and makes biaxial oriented polypropylene film so, transparency is good and sectillity is excellent.
Adhesive : Rubber type
Available Color : Clear, Tan, White, Blue, Red, Green, Orange ( Any request colors are available )
Printing : we are able to 1tone ~ 5tones image print on tape
Core : ID76mm X (T)3.8mm hardboard core and able to print customer request inner core paper.

Cloth Tape
OVR Cloth tape is excellent tensile strength and adhesive power than other industrial tapes, so they are suitable by industry, construction use and heavy package sealing.
Grade : Industrial general purpose
Cloth Composition(%) : 65% polyester + 35% cotton
Cloth mesh : 40mesh, 65mesh
Available color : Black, Silver, Blue, Green, Red, Yellow, White, Brown
Adhesive type : Natural rubber(main) + synthetic resin

Double Sided PE foam tape
OVR PE foam tape is easy adhering on the rough or irregular surface because fills fine space and separates load evenly, and designed to provide engineered assembly solutions for a wide variety of industrial applications.
Grade : Industrial special purpose
Base material : Polyethylene foam
Adhesive type : Rubber in duble side
Foam color : White, Black

Filament Tape (PET + Glass fiber)
#OVFT507 - Use for Electrical Products
#OVFT508 - Use for Steel Products
Adhesive Type : Rubber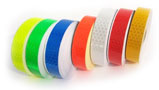 Reflective Tape
Glass Bead Type The basic color is silver used for the certified workwear and other 24 colors are provided for the fashionable sports apparels.
Microprism Type The main source of reflective material is the micro-prism which has cube corners making an incoming beam of light back.