OVR Food Packaging Material
Food Warp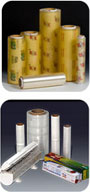 Characteristics of PVC cling food wrap : PVC cling food wrap that wraps around the foods such as vegetable, fruit, meat, biscuit, confectionery, bread, raw fish, pot stew, etc. It keeps preventing the foods from evaporating the moisture excellent moistureretention and freshness to wrapping foods and helping food stay fresh as well.
Characteristics of PE cling food wrap : LLDPE wrap is almost harmless to human by making use of natural corn oil instead of chemical additive and is 100% recyclable as well, Much useful when heating the food in a microwave oven because of non-toxic PE wrap even in high-temperature.
Fruit Socks (PE Foam Net Type for Fruit packaging)

Specification
Material : Hi-grade PE 100%
Elasticity : 98%
Foaming grade : MD foam
Net Cross Part : good
- Original : Made in Korea
- Material : 100% Virgin Polyethylene – LDPE 5321
- Type : Casting Foam, Cross net diamond type.
- Available Colors : White, Light Blue, Yellow, Light Green, Light Red.
- Size
5cm(w) X 7cm(L)
6cm(w) X 11cm(L)
8cm(w) X 17cm(L)
- PE foam-ply size : 1.5mm ~ 3.3mm
- Packing : 2000 ea / poly bag
Cold-Warm reserving pouch (Isolate Pouch)
OVR Cold-Warm reserving pouch laminated silver leaf on PE foam sheet. Specially, when produce pouch, sutures three sides to heat pressure type for make perfect sealing They would help keep temperature to need maintain warm or cold foods, also this products is protected from UV and light, keep moisture from evaporating.
Specification
Pouch Size : any request size are available
Material : PE foam + PET/PE/VM
Finish pouch mouth treatment : Adhesive type, Zipper-lock type
Surface : Non-lamination, Silver leaf lamination, color film lamination.

-Application
- Ice foods
- Warm foods
- Cold foods (Meat, Fish)
- Cold, Warm drinking bottle